Gibson ES-335 Cherry Red 1989
Sweetness comes in many shapes and forms. It can be a pumpkin spice latte, a favorite chocolate cake, or a stunning ES-335 guitar. Whether or not you like the former, we're absolutely sure you'll love the latter. This guitar is a rock classic sound packed in an instantly recognizable, eye-catching body.
Pretty much every famous rock and blues guitarist has one in their arsenal. Cherry red ES-335 is a guitar you know from posters, concerts, and magazine ads. It's THE sound on the albums of Larry Carlton, BB King, Lee Ritenour, Eric Clapton, and Gustavo Cerati. It has sweet, round singing tones and rock and roll bite. 
This particular guitar has all of it  - and more. Very comfortable slim taper neck, and nice body-neck balance, it has quite a lot of body and tone to it. It was made in the late 80s, an era which is known for quality guitars. The neck pickup tones are crisp and tight, not muddy at all. The middle position brings a lot of funky quacks, and the bridge tones give a dynamic, powerful midrange attack. Tons of brilliant, 3D-like sound.
Over the years it got small scars, scratches, and minor dents but overall the visual state is very good. It has a beautiful maple pattern peeking through the nitro lacquer and deep, dark chocolate-colored rosewood. It evolved through the years with some parts upgraded. First of all, it has been refitted with wide tall frets. The tuners were replaced with Gibson Kluson Deluxe. The bridge and tailpiece are now upgraded with Callaham ABR-1 / Cold Rolled steel combo. Lastly, the case is a genuine TLK hard case. 
Specification
Body: Maple top, back and sides
Neck: Mahogany
Fretboard: Rosewood
Fretboard Inlays: dots
Fretboard radius: 12"
Scale: 24.75"
22 frets
Neck profile: slim taper
Neck thickness: 0.72" at 1st fret, 0.82" at 12th fret
Pickups: Gibson Bill Lawrence
Tuners: Gibson deluxe Kluson
Bridge/tailpiece: Calaham ABR-1 tune-o-matic bridge and Steel Cold rolled stoptail
Case: TLK hardcase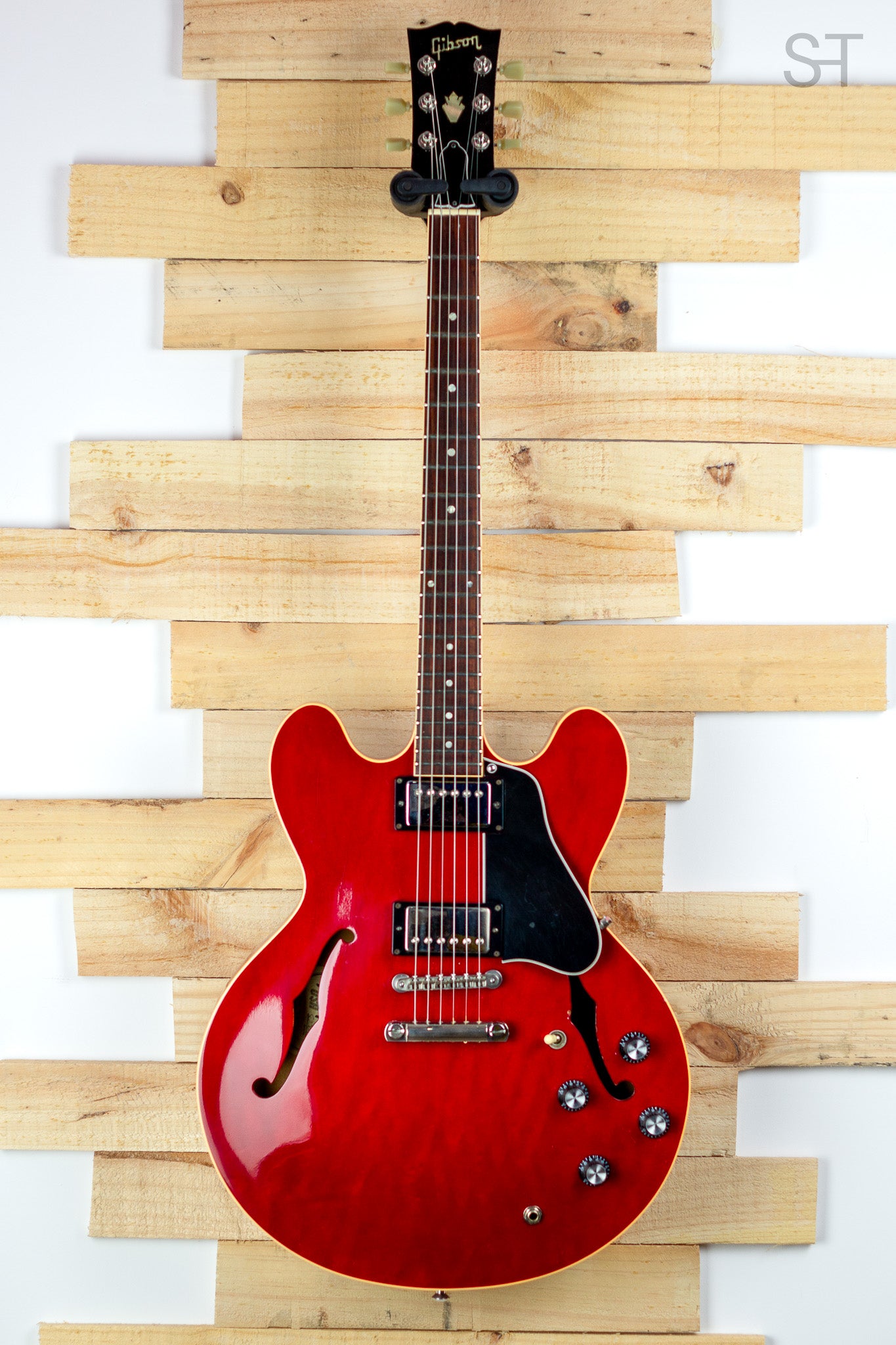 1 / 7